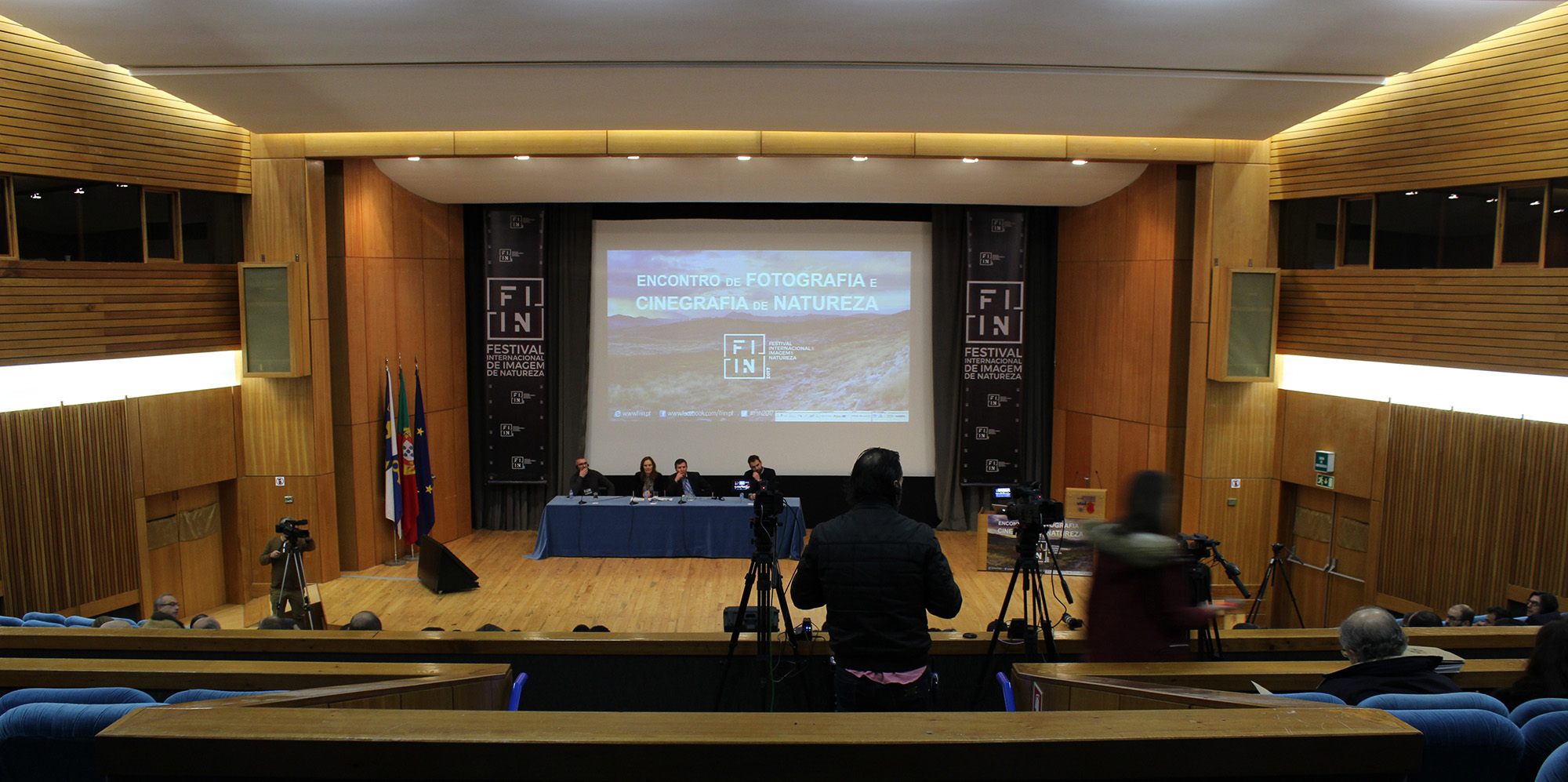 Nature Photography and Film Meeting
17th and 18th November – Vila Real Theater
The Nature Photography and Film Meeting, which features a range of renowned national and international experts in this issue, aims to be a forum for debate on the preservation of the planet's wildlife and the role of nature photographers and film-makers  in our days  conservation issue.
THE IMPACT OF MAN ON THE PLANET
Daniel Beltrá
Daniel Beltrá has been documenting man's impact on the planet for almost three decades. He will be presenting some of his best images from this journey. While the plight of the Amazon rainforest has been a steady interest since he first went there in 2001, his mission to tell the story of global warming has also led him to the deforestation of Indonesia and the Congo, the melting of glaciers in Greenland, Iceland, Antarctica and Antarctica, and the catastrophe of the 2010 Gulf Oil Spill. All of these topics and locations are pieces in the puzzle of global warming and climate change, a grave challenge that we must urgently solve. Daniel's desire is that the stories his images tell will give audiences a deeper appreciation for nature and an understanding of the precarious balance our modern consumer lifestyle has placed on the planet.
IN LOVE WITH THE WILD
Marina Cano
In my first wildlife book, published in 2009, I began to talk about conservation by looking at figures and data, as I had not yet set foot on African soil. Almost ten years later, I have worked with organisations involved in the fight for conservation, visiting their facilities and getting to know first-hand the problems they face and the initiatives they carry out. Over these 10 years, and in spite of much effort, both by individuals and by some governments, it is still a losing battle. The death toll keeps rising and corruption leads to all-out war. But the more complicated the task, the more people join the battle, which brings hope to all of us living on the side of humanity and to those that live in permanent vulnerability for utterly ludicrous reasons. Every 15 minutes, an elephant is killed in Africa; If we do not put a stop to this massacre, elephants will disappear from the face of the earth in a few years. This is a prime example of the shameful legacy we will be leaving our children. My job is to disseminate, to spread what I see and what I learn, under the leitmotiv "to know them is to love them." Speaking from the only possible place: the heart. Conveying all the passion that animals display and capturing all the emotions they elicit. If my photographs are beautiful, that is because animals are beautiful.
CREATIVE PHOTOGRAPHY OF WILDLIFE
Mario cea
The objective of this masterclass is to teach any and all photographic techniques that will allow us to give our photos a different and unique aspect and a high level of visual impact, in a theoretical/practical way. The objective of this masterclass is to teach any and all photographic techniques that will allow us to give our photos a different and unique aspect and a high level of visual impact, in a theoretical/practical way. Mario Cea currently uses many of these techniques for the vast majority of his works, and explains and develops the following in great detail during this masterclass:
• High-speed photography.
• Multiple camera exposures.
• Double focal points during a long exposure.
• Lens changing during a long exposure.
– With the High-Speed technique, it's possible to freeze any movement, no matter how fast it is, which, in most cases, would be too fast for our own eyes, thus obtaining action images that are very rarely seen.
– Multiple exposure photography provides us with infinite possibilities to compose almost any image that we might imagine, finishing the image in our own cameras without the need to use any post-processing.
– With the double focal point technique, we can compose images that our equipment is not capable of creating by itself, obtaining focuses both in the foreground and at a distance of infinity, and with all of this in a single image.
– We will explain the fundamentals of what changing lenses during a long exposition is all about. With this technique, it is possible to obtain impossible images in a single original file (unique RAW file). We will find out which are the best methods to use for each of them, what meteorological conditions are best suited for it, as well as the best materials to use to get almost any image we can imagine. These types of "creative techniques" will typically result in unique and original images, often unrepeatable, something that we as photographers always want to have in our portfolios.In the practical section, Mario will assemble a complete high-speed photography equipment setup to show attendees how it works and the materials needed, and will give a demonstration of the best way to carry out the technique of changing lenses during an exposition..
CAPTURING THE BLUE
Nuno Sá
Pelagic species that inhabit the water column at deep sea are some of the most difficult subjects to shoot for an underwater photographer or videographer. The Blue is inhabited by the largest animals that ever roamed our planet, such as the blue whale or the sperm whale; schools of sharks and giant manta rays, the largest fish in the world; or pods of dolphins and killer whales working in perfect coordination to feed on large shoals of small pelagic fish.However, spotting large migratory species is also like finding a drop in the ocean. To be successful and chance seeing species that follow a route, often for thousands of kilometres, you have to not only be in the right place, in the middle of the ocean, but you also have to adapt your diving techniques and equipment to succeed in capturing the images that tell a story that can take place close to the surface or tens of meters deep.From his first steps in photography to shooting images on video for major international productions, the author tells his story through encounters with giants of the deep seas and the troubles he has had to face to achieve his goals.
Special Session:
Vila Real views on biodiversity
with Luís Romba e Nuno Silva
Quem melhor do que os que cá estão para sublinhar a evolução do papel da imagem de natureza na nossa região?! Esta sessão, com Luís Romba e Nuno Silva, pretende dar destaque àqueles que dedicam a sua arte e engenho também à arte da fotografia e promover a partilha de experiências entre autores nacionais e internacionais com o público em geral. É um espaço que evidencia a importância da sensibilização para os valores naturais, através da imagem, na qual temos apostado e cujos frutos vemos refletidos nos trabalhos dos artistas de Vila Real – O Destino da Biodiversidade..
Sign up now for the Nature Photography and Film Meeting
| November 17th | Time |
| --- | --- |
| Opening Session | 9:00 – 9:15 |
| Photographers from Vila Real [Luís Romba, Nuno Silva] | 9:15 – 10:00 |
| Capturing the Blue [Nuno Sá] | 10:00 – 10:30 |
| Coffee break | 10:30 – 11:00 |
| In Love With The Wild [Marina Cano] | 11:00 – 11:30 |
| The Impact of Man on the Planet [Daniel Beltrá] | 11:30 – 12:00 |
| | |
| november 18th | Time |
| --- | --- |
| Creative Photography of Wildlife [Mario Cea] | 10:00 – 12:30 |
| | |
Review some moments of Past Editions